What is Bucket Grease Pump?
Bucket Grease Pumps are designed for fast and easy lubrication in applications that need a large amount of lubricant on a daily basis. Its applications range from agricultural machinery to excavators and other earth-moving equipment in automobiles. Setting a high volume at high pressure can be used. When the pump is set to high volume, Bucket Grease Pump can deliver up to nine grams of grease. Steel, aluminium, brass, and nitrile rubber are among the wetted components.
What are the Benefits of Bucket Grease Pump?
Grease is a common lubricant used in places where oil is not allowed. These are typically places where oil can drip and cause damage to other parts of the equipment, facility, or job site. This non-liquid lubricant is made up of a mix of oil and soap that has a higher viscosity than oil. The benefits of the grease bucket pump are mentioned below:
Easy and Quick openable cover.
Consists of an adjustable carry handle.
It operates without the use of air pressure.
It saves grease by returning the excess grease to the grease bucket.
It eliminates dribble and mess on the couple's tip while providing a clean disconnect.
It has a higher grease discharge per stroke than most liver bucket grease Pump, making it four times more efficient.
Standard G coupler and pressure return valve Grease coupler helps to save grease costs by preventing grease vestige.
A grease pumping system can be a great cost-saving option for your facility. Not only will you save time by not applying grease manually, but you will also use less grease in your daily operations.
The grease bucket pump is protected by the clip-on lead, which keeps rain and dust out.
Grease Pump that are operated manually are efficient and time-saving.
What are the Types of Bucket Grease Pump?
There are different types of Bucket Grease Pump including Air Grease Pump, Oil Pump, Foot Pumps, Grease Pumps, Hand Operated Grease Pumps, Foot Operated Pump, Manual Grease Pump, and Grease Pump Spares.
Ajay Tools are well-known grease bucket manufacturers in India and overseas who deliver their products all over the world with higher safety and at very reasonable prices. They provide the following services:
Lever operated pump mounted on the cover of the drum
Deliver with 2.2 meters of high pressure hose fitted with accessories
Removable handle
Spring-loaded disc is placed inside the drum to make positive pressure for easy pumping of grease
Delivery rate 4.25 gram/ stroke
Working pressure up to -4000 psi
Useful for greasing machinery and trucks
Pumps have steel construction with a cast head and solid steel pump chamber
High-pressure hand operated portable pump
How to Use Bucket Grease Pump?
Although grease Pump bucket is widely used, they should be treated with respect and used according to the manufacturer's safety guidelines to avoid injury.
On the market, there are four types of grease Pump: manual, battery-operated, air-powered, and AC electric. Each type has its own set of rules, but many general rules, such as training, work area safety, proper tool use and care, and personal safety, apply to all.
What are the Prices of Bucket Grease Pump?
Bucket Grease Pump available at different prices according to their sizes.
Rs. 5,300 for a 3 Kg Bucket Grease Pump
Rs. 5,800 for a 6 Kg Bucket Grease Pump
Rs. 6,400 for a 10 Kg Bucket Grease Pump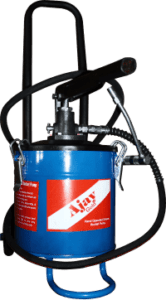 What are the Maintenance Tips of Bucket Grease Pump?
Oil mixed semisolid dust-free grease is recommended
Grease from the floor should not be applied to the containers.
When not in use, the pressure should be released.
Cleaning and monitoring of the pressure horse and unit should be done on a regular basis.
It is crucial to keep your work area clean and well-lit, regardless of the type of grease Pump you use. Accidents of all kinds are more likely in cluttered and dark areas. Spills of oil or grease on floors, catwalks, and ladders can result in serious injuries and fire hazards.
Immediately wipe up lubricant spills or use absorbent drying pads or granules. Lubricant leak sources should be repaired to keep the environment safe.
Final Say
Ajay Tools is one of the leading tool brands in India, which provides various amazing hand tool products to their customers at very reasonable rates. They are well-known for their grease Pump bucket and deliver all over the world.